2018 Porsche Cayenne Sound Systems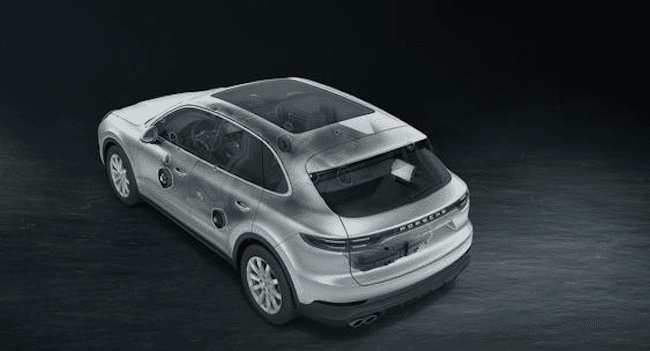 The Porsche brand has long been idealized for its commitment to luxury and state-of-the-art technological innovation. The sound systems available in the 2018 Porsche Cayenne only augment this existing impression. From the Sound Package Plus to the Bose® Surround Sound System and Burmester® High-End 3D Surround Sound System, the Porsche Cayenne is here to turn your SUV into a concert hall. To all you music aficionados: you will perceive the pristine clarity and revel in the utter musical perfection.
Sound Package Plus: Power and Control
Featuring ten loudspeakers with an output of 150 watts, the Sound Package Plus comes standard. It's powerful, yet controlled; the amplifier integrated into the Porsche Communication Management system optimally adapts the acoustic pattern in the vehicle interior to the driver and front passenger. It's powerful…and smart.
Bose® Surround Sound System: Bringing the Base to Los Angeles Area Drivers
With a fourteen channel amplifier and an output of 710 watts, the Bose® Surround Sound System can reach unimaginable volume levels (without blowing a speaker). With a separate subwoofer to ensure a balanced reproduced acoustic pattern, it's clear that no stone was left unturned when integrating Bose with Porsche. Furthermore, with Bose SoundTrue enhancement technology, you will quickly discern the improved audio quality of mp3 file formats.
Burmester® High-End 3D Surround Sound System: Raising the Bar
If 1,455 watts sounds like a dream, we've reached the sound system for you. Featuring 21 individually controlled loudspeakers, an active subwoofer, a two-way center system, and a total diaphragm surface area of more than 2500 cm squared, this is the sound system to beat. With special air motion transformer tweeters to create fine and undistorted high-frequency sounds, you'll hear everything loud and clear as you cruise through Los Angeles in your Porsche Cayenne.
No matter the sound system you opt for, know that each and everyone is a top-of-the-line innovation. If you have any questions regarding the above sound systems, feel free to contact our Porsche dealer near Los Angeles.