2018 Porsche Macan Interior Highlights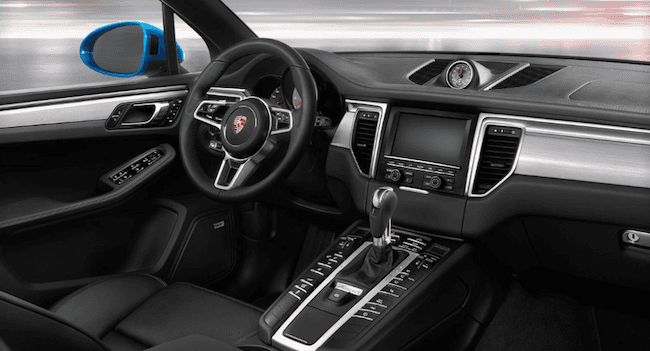 The 2018 Porsche Macan–featuring sharp body lines, steel spring suspension, and a 2.0-liter turbocharged engine–is the perfect combination of sport and sophistication. Those who drive a Macan can discern the paramount performance; however, they will never encounter the rumble presumed to coincide with 252 horsepower. It's unmatched power without the unsought uproar.
With such a perfect ratio of beauty to beast, Porsche could not provide only one interior color and material. How would one option encompass all the identities this car can assume? Thus, there are multiple materials and color options at your disposal.
Interior Colors and Materials
Whether you opt for Seats Alcantara or genuine leather, the 2018 Porsche Macan is an endless enchanter. The former is a long-lasting and suede-like material designed to soften the Macan's aesthetic; the latter possesses a harsher–more striking–appeal. If you're looking to add a more elegant touch, consider Alcantara. To those of you in the market for 007 aesthetic, retain your loyalty to leather.
In addition to two material options, there are several color pallets available. The leather interior comes in monochrome and two-tone color options. As for the former, you can opt for Black, Espresso, or Agate Grey. The two-tone color options include Garnet Red/Black, Agate Grey/Pebble Grey, Black/Luxor Beige, and Saddle Brown/Luxor Beige. The Alcantara material is available in Black/Luxor Beige, Agate Grey, and Black.
Audio and Communication
At Porsche Riverside, we understand that a 21st-century SUV must come stocked with the latest technological innovations. The Porsche Macan excels in this department. From the new Porsche Communication Management System to Porsche Connect, and Connect Plus, any Macan–Base, S, or Sports Edition–will keep you connected as you cruise through the streets of Los Angeles.
We all know that a connected vehicle is nothing without a complementary sound system. Featuring a top-of-the-line BOSE Surround System and Sound Package, the Macan will turn your car into a concert hall. Whether you're a jazz baby or a rock and roll renegade, the 14 loudspeakers will transport you to the music venue of your choice. In the Porsche Macan, your driving experience is of optimal importance; if we can keep your eyes on the road, but take your ears to paradise, we've done our job.
If you have any questions about the 2018 Porsche Macan, feel free to contact our Porsche dealer near Los Angeles.