Customer Reviews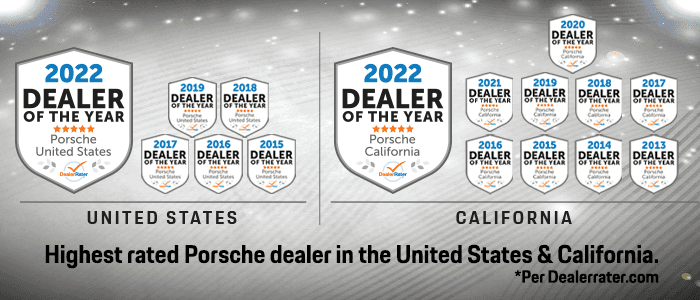 I bought a Macan at Riverside Porsche and Sherman Sims was my sales associate. He was an absolute joy to work with. He made me feel like I was his only client (even though he's EXTREMELY busy) and he was very attentive, very professional and made our deal seem seamless and effortless. It was so smooth. I highly recommend getting your Porsche here and PLEASE, PLEASE, PLEASE do yourself a favor and ask to work with Sherman from the get go. I promise you won't be disappointed.
I recently purchased a 2021 Macan S, and my experience was smooth and painless. Sherman Sims was super helpful and had everything ready when I got there. I will definitely be going back for any future cars.
Charles is amazing! I had several order changes in my vehicle the were last minute. Charles was able to accommodate me on all of them. Great professionalism, excellent service.
Rob Owen helped me from the day I ordered my new GTS. When the day came to see for the first time, he had it placed out front of the dealership for me. Rob spent a good part of the day while I went through the purchasing process. After the purchase was complete, I was given a complete tutorial of the cars features, set up My Porsche, got a little gift from Rob and off I went....happy as can be! Thanks Rob Owen and Porsche Riverside!
Charles White was wonderful to work with! The process was easy start to finish. He was very responsive and kept us informed throughout.
very high maintenance and very helpful workers , everyone was so friendly and helpful. will recommend to family and friends
Although I didn't get the exact car I waited for 3 days, I got something close to it. The virtual communication was not as quick as I wanted it to be but the in-person service made up for it. Thank you, Taylor. Thank you, Josh.
Purchased a Macan from Tony last week, quite possibly the easiest car buying experience I have had. I did not make it easy on him, my schedule was hectic and there were some other obstacles but he made it happen, brought the car to Manhattan Beach for me where I had some meetings and signed between appointments. Great communication, very helpful, incredibly easy car buying experience. If you're serious about buying a car, this dealership is for you. Definitely ask for Tony Nguyen.
I have had excellent service from this dealership and Henry Quezada my service advisor. He has been very helpful to me.
Charlie Nguyen was very helpful with my purchase & explaining all the features in the car
As always, Mike Barcelona took excellent care of my needs! Best service advisor I have ever used! Long way from my house in San Clemente, but worth the drive to get the service done right! Thanks again Mike!
Got my first 911 through Porsche ambassador Charles White. His customer service was absolutely outstanding from the day I received the allocation to delivery day. It helped that he also is a 911 owner, he had a lot of first hand experience/knowledge. He's a true professional. Most of all, he is someone I can trust. I had a perfect experience and would highly recommend Riverside Porsche.
Rob was excellent to work with. Great experience and recommend him highly to anyone looking to buy Porsche. We went through entire custom order process and delivery.
Sherman Sims, brand ambassador at Porsche Riverside, made buying my new Porsche 911 very easy. He communicates well throughout the entire process from inquiry to delivery.
Mike Barcelona is the person you want to help you out with your Porsche! Mike works with my hectic schedule to get me a loaner. And or a speedy return of my car I feel bad that he often tries to explain mechanical issues to my brain -but I just like to look good in the Porsche -not fix the Porsche! I have to give Mike an A for effort to try to explain The mechanical issues to a Porsche He explains to me his daughters know a lot of mechanics and tires & it's important for me to ...
Josh Vigil provided excellent service at Porsche Riverside. Best car purchase experience I have ever had, he even delivered the car to me at work when I was unable to make it to Riverside. Highly Recommended!
My experience was spectacular from the sales person Rob to the finance manger Adam . They make everything smooth and easy from the price to the finance and make sure everything in the car was almost brand new . I would recommend everyone to come and ask for both god bless 🙂
Josh Vigil at Porsche Riverside went the extra mile to provide me with excellent customer service. I am a first responder and was unable to get up to Riverside for five days until I went off duty to even look at the car. Josh sent me very well detailed videos of the vehicle so that I felt comfortable purchasing a 2021 Cayman GTS without actually seeing it in person. Then he even delivered it to me at work an hour and a half away. Highly recommend Josh and Riverside Porsche.
Porsche Riverside is amazing, Best service, highly recommended, I had a very good experience with them .
I had a wonderful experience with Charles, from ordering of the vehicle to delivery. Charles was very responsive, kept me updated at every step, and flexible in terms of scheduling the pick up. The experience at the dealership was also seamless. I would highly recommend dealing with Charles and getting your next car from Riverside.
Clean, easily accessible, great staff, good selection considering all of the problems with automotive supply chains.