Customer Reviews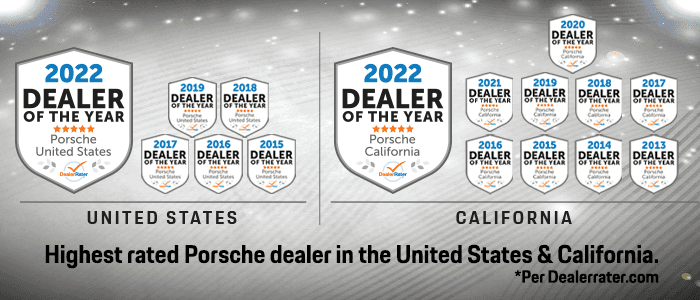 Cody Allen was fabulous. Fast and friendly service. Very knowledgable. Will definitely be back for all my Porsche needs.
After visiting several Porche dealerships, we saw a difference in the service and professionalism right away with Porche Riverside and our Sales Rep, Sherman Sims! Sherman was very personable and knowledgeable about the vehicles and helped us with making the right decision on the perfect GTS model. He and the entire team at Porche Riverside were awesome all along the way, including the General Manager Jeremy Bishop all the way down to the very detailed introduction to a new complex EV system and all bells and whistles as guided by their Porche Pro Alexis Trujillo. We highly recommend Porche Riverside ...
It was a pleasure working with the Riverside Porsche team. My experience from the time I walked in with salesman Rob Owen was outstanding. His knowledge of the Porsche from its interior to the motor was magnificent. Adam , in financing made my life simple by having everything ready. It wasn't your typical three hour sign time. The Panamera handles like a dream !
The team at Porshe Riverside really treat their customers well. I worked with Rob Owen and the knowledge and non pressured approach really made the purchase of my first Porshe a pleasant one. I would definitely recommend friends and family to do business with them. Thank you all
Professional from beginning to end. Came to get wheel locks removed as the car was missing key when I purchased. They got me in right away without appointment and also took care of a minor recall issue. Went to pay and they did not charge. Thanks Service advisor Henry Quezada. Fantastic service!
Sherman is truly a sale professional . He looks for your best interest when purchasing a Porsche . Sherman is full of Porsche knowledge which make your comfortable purchasing the vehicle . Thank you Sherman !
The service was excellent and timely. I was assisted by William Barbaro who was professional and personable. He kept me informed and made the maintenence process completely painless. I wish all my visits to dealerships were this good.
Nothing but good things to say about Porsche Riverside and the assistance of William Barbaro
Thank you Bob McDonald, for your graciousness and professionalism, in making our dream a reality. Your expertise in helping us spec our 911S was spot on. I would highly recommend anyone who wants a Porsche, to see Bob at Walters Riverside, a true gentleman. Also, a shout out to Finance Manager Andrew Bartoli, who made our finance experience a breeze. Andrew was low pressure and extremely helpful in presenting Porsche service and security packages, that we gladly purchased. A wonderful experience. Sincerely, Bill & Tama Travis
Porsche Riverside has a real understanding of what their customers want. An example of this was hiring people like Rob Owen who has a vast knowledge and understanding of the Porsche. Robs ability to guide me through the interior to the motor was outstanding. Thank You
Very professional, easy experience. Austin answered all of our questions and treated us very well.
Cody Allen, was my service advisor- Polite and courteous and very responsive. 1st rate service.
Josh Vigil was great. We pulled in and he came over to chat, asking if we had questions. We did. And he answered all of them. He didn't talk down to me (as a woman) or pressure us - just spoke like a regular people. He didn't try to become our best friend (which we've experienced at other places - and it's annoying) - he was just an honest, straight-forward guy who walked us around the cars and explained the spec and feature differences between the ones we were looking at. Josh and Jeremy were great. ...
Joshn Vigil and Porsche Riverside are always a pleasure to work with. This is my second Porsche I have purchased from them and they are always professional, friendly and fair. No car salesman games like a lot of other dealerships.
Josh Vigil and Porsche Riverside are always great to work with. Very professional, friendly and fair. This is my second purchase from them and many more to come.
Charles was amazing he took such great care of me and made the stressful process of buying a car simple. Definitely use Charlie! He is honest and amazing every step of the way
Brandon was very helpful, provided a complete overview, and assisted with all aspects of the sale. Friendly, knowledgeable, and took the time to make sure everything was accurate and complete. Finance manager also was outstanding.
People lose opportunities due to ignorance and doing things which doesn't earn profit, I was an idle person until I met Mrs Eliana Russel Fx Trader Who gave me all the guidelines in trading and also helped me with a good account which I traded with. All I did was to invest $1,000 and earn $10,560 in seven days. If you wish to trade I recommend to you today Mrs Eliana Russel as the best binary options expert, you can contact her via WhatsApp: +17734138075 Email: [email protected]
Loved the whole process, Charlie Nguyen was easy to communicate with, very prompt and very thorough. Even the finance guy Andy was a pleasure to work with. You can have a great car buying experience after all!
From the street it has a good selection of vehicles outside in the parking lot The place was clean and very welcoming
John Beech in Sales guided us through the process of ordering a new 911 and waiting for delivery for 4 - 6 months; he then showed us a beautiful pre-owned Carrera 4S which was everything we wanted in a sports car. We decided to take the pre-owned car and Andrew Bartoli, Fianace Manager, made the process easy to finalize the transaction. Alexis Trujillo in After Sales Service was very helpful in pointing out the controls and operations of the car. Start to finish the experience was very positive.
Excellent service from Brandon… from the initial contact, updates on vehicle availability, and the whole purchase experience. Highly recommend Brandon and Porsche Riverside.
Great Experience, Fast and easy process. Tony the salesman is the man to go to!