Can a Porsche Cayman Hold Golf Clubs?
With so many beautiful golf courses to take advantage of, it's no surprise that golfing is a favorite activity of those living in and around Los Angeles and Orange County. Those that have taken up golfing know that the sport comes with a lot of required equipment, like clubs, so it's important to have a vehicle that can transport that equipment to and from the course with ease. At Porsche Riverside, we're pleased to offer the Porsche 718 Cayman in Riverside, a sporty coupe with enough space to bring along your favorite person to play 18 holes with, and those bulky golf clubs!
The mid-engine concept of the 718 Cayman allows for spacious luggage compartments—one at the front and one at the rear of the vehicle. The front luggage compartment offers up to 5.3 cu-ft of space, while the rear compartment offers up to 9.7 cu-ft. Thanks to a shelf above the engine cover, there's enough room to accommodate longer items—like golf clubs.
The Porsche 718 Cayman Offers Plenty of Storage Space for Southern California Golfers
Inside the cabin, the 2017 Porsche 718 Cayman, available at our Riverside Porsche dealership, offers even more storage options. Two compartments in the doors, clothes hooks on the seat backrests, and two cupholders above the glove compartment provide further convenience.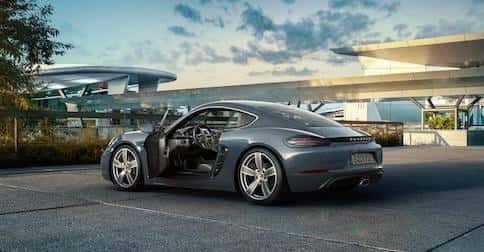 Don't worry; all of this storage space doesn't hinder passenger comfort! The Cayman's sport seats are comfortable and provide support even during performance driving. They include an electric backrest adjustment and mechanical height and fore/aft adjustment so that the driver and front passenger can find his or her own personal level of comfort. To make each driving experience even more enjoyable, shoppers can opt for the available fully-electric Sport seats that feature power adjustment of seat height, backrest angle, squab angle, and squab depth. Relax in luxury on your way to and from the golf course!
To learn more about the Porsche 718 Cayman, contact us.