Does the 2018 Porsche Macan Have a Sunroof?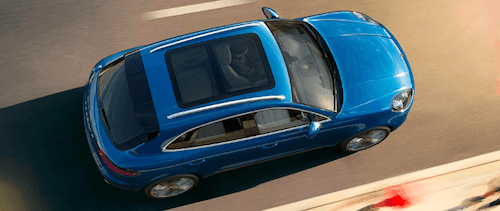 Natural Light For Los Angeles Area Sun Worshippers
Why would you opt for a simple sunroof when you can have the exclusive panoramic roof system? A full square meter in size, the panoramic roof system–comprised of two large glass panels–spans nearly the entire length of the Macan's roof. When opened, you'll feel the summer breeze and bask in the sun's glory. When closed, the slight tint will keep the car cool; however, allow for you to enjoy the beautiful Los Angeles sky.
Unlike many other sunroofs–which merely open and close–the Porsche Macan panoramic roof system features a front panel that you can slide open or tilt to a raised position. The roof system also features a roll-up blind to shield you from the sun's harsh rays on those extra hot days. If you're looking to drive around town in the Porsche Macan, luxury is not an option, it's a necessity; the panoramic roof system is in place to augment the already luxurious driving experience you will have behind the wheel of this bad boy.
Other Porsche Macan Summer Features
It's important to note that all Macan models feature a standard three-zone automatic climate control system. Providing separate air conditioning in the rear compartment–and a cooling function for the glove compartment–the folks at Porsche have thought of everything!
The 2019 Porsche Macan also offers available front seat ventilation; a must-have if living in Los Angeles. For greater comfort on long road trips, opt for the seat heating and cooling package. This will not be a decision you come to regret.
From the panoramic roof system to the three-zone automatic climate control system and seat ventilation package, the Porsche Macan is here to make every summer trip a breeze (pun intended).
If you have any questions, contact our Porsche dealer near Los Angeles. We are ready and willing to answer any questions you may have.