Los Angeles Porsche 911 Shoppers Enjoy Innovative Performance Features
When it comes to power and efficiency, you don't have to choose between the two. At Porsche, we believe in getting the most out of what you've got. At Porsche Riverside, our Porsche dealer in Los Angeles, we've proud to offer the 2015 Porsche 911 Carrera – a magnificent combination of the power-packed performance you've come to expect from the brand, and incredible fuel economy to take you further.
Efficiency-enhancing Measures
Incredible power usually comes with a price – the sacrifice of great fuel economy. The 2015 Porsche 911 provides its jaw-dropping performance without skimping on efficiency, thanks to its efficiency-enhancing measures. The auto start/stop function comes standard on all models and works with the gearbox to switch the engine off automatically when the vehicle is stopped at a traffic light. Models with Porsche Doppelkupplung are able to switch the engine off whenever the vehicle is stopped and the driver leaves his or her foot on the brake pedal.
The thermal management system regulates the temperature in the engine and gearbox through the intelligent manipulation of heat flow. Thanks to this intuitive system, the engine and gearbox reach their optimum operating temperature sooner and fuel consumption is reduced through increased combustion efficiency and lubrication performance.
Another standard feature, the electrical system recuperation, recharges the vehicle's battery by the alternator under braking. Under acceleration, the power draw of the alternator is limited to increase the engine output available for driving. With the electrical system recuperation function, the electrical systems are supplied by the electrical energy stored during the recharging process.
Coasting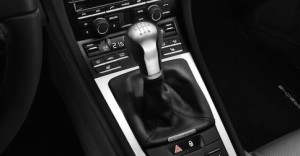 Available in models equipped with Porsche Doppelkupplung, the coasting function enables Los Angeles Porsche drivers to save even more fuel where the situation allows. The engine is decoupled from the transmission to prevent deceleration caused by braking and optimum use is made of the 911's momentum, allowing it to coast for longer distances.
Seven-speed Manual Gearbox
This state-of-the-art seven-speed transmission is exactly what you would expect of a Porsche manual gearbox. It combines a high level sporty performance with a high level of efficiency. Based on the principle of Porsche Doppelkupplung, gears one to six have a sports ratio and top speed is reached in sixth gear; the seventh gear has a long ratio, which reduces torque and also helps to reduce fuel consumption.
For more information about the 2015 Porsche 911, visit our Los Angeles Porsche dealership or contact us.