Introducing the Most Powerful Porsche Ever: 911 GT2 RS
At Porsche Riverside, we're beyond excited to introduce the most powerful Porsche ever, the Porsche 911 GT2 RS! The Porsche 911 GT2 RS made its debut at the Goodwood Festival of Speed in the UK and at the heart of this high-performance sport car is a 700-horsepower biturbo flat engine! This lightweight, two-seater has the ability to make the jump from zero to 60 MPH in only 2.8 seconds, and has a top speed of about 211 MPH!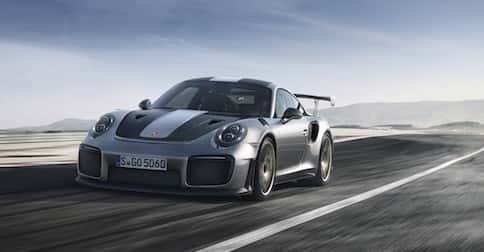 In order to increase the performance capability for this model, Porsche engineers created the engine with large turbochargers that push an increased volume of process air into the combustion chambers. A new additional cooling system helps to deliver optimal cooling at peak loads, spraying the charge-air cooler with water. As a result, the gas temperature falls to ensure optimum power output—even under extreme conditions!
The Porsche 911 GT2 RS: Performance Cranked Up a Notch
After all, Porsche engineers believe that performance can always be cranked up a notch, that's why they've developed the optional Weissach package—which saves even more weight. The package includes additional elements made from carbon-fiber reinforced plastic and titanium. The roof and anti-roll bars are made of carbon, and the magnesium wheels help to reduce the overall gross weight of the vehicle and the unsprung weight, delivering enhanced chassis properties.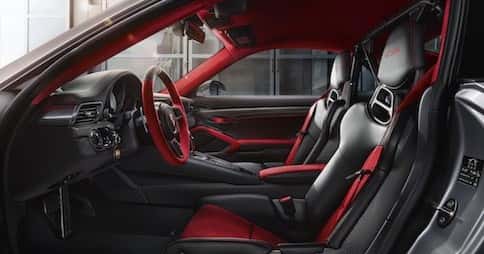 The sportiness of this car translates to the interior that's dominated by red Alcantara, black leather, and interior parts with carbon-weave finish—all standard! The sport steering wheel features gearshift paddles that enable quick and sporty gear changes. The full-bucket seats provide passengers with the support and comfort they need during every drive and as in every 911 model, the 911 GT2 RS includes the Porsche Communication Management system that acts as the central control unit for audio, navigation, and communication features.
While you wait for the most powerful Porsche ever, be sure to check out the current Porsche lineup that's available at Porsche Riverside. For more information, contact Porsche Riverside.