How Does the 2018 Porsche Cayenne Hybrid Work?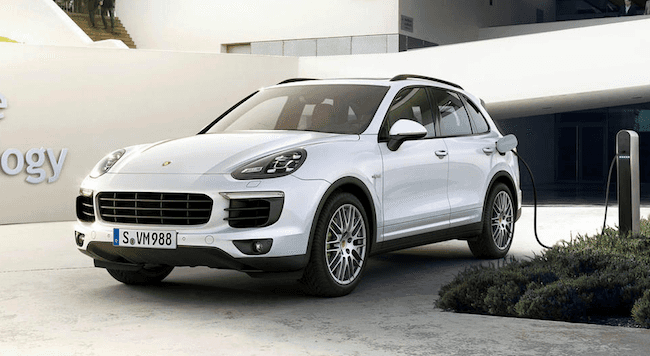 Explaining the Porsche Cayenne Hybrid to Los Angeles Area Drivers
Never before has Porsche seen such a seamless harmony of eco-friendly mechanics and unparalleled driving dynamics. The 2018 Porsche Cayenne S-E Hybrid is fuel-efficient and ferocious. Whether you decide to drive with just the combustion engine, just the electric motor, or both together, the Porsche Cayenne provides an optimal driving experience, while still achieving comparatively moderate exhaust emission values. The question is: how does it work?
A pressure point–located on the accelerator pedal–signals the switch between all-electric mode and combustion engine based driving. If you opt to use the kickdown system, you'll get a little extra boost; it makes use of the overall system output to enhance the electric motor's power. If you put the Cayenne in coasting mode, the combustion engine turns off. This allows you to save quite a bit of fuel (since your Cayenne will be relying solely on its own built up momentum and electrical energy store). In summary: decreased fuel consumption AND impressive sport performance. If you're interested in the Cayenne S-E Hybrid, feel free to fill out our online finance application and see how you could drive off in one today!
Winning the Race
When it comes to state-of-the-art technological innovation, Porsche always leads the pack. Against the 2018 Porsche Cayenne S-E Hybrid, leading competitors don't stand a chance. Not only are the engine mechanics constructed with fuel-efficiency at the forefront, the vehicle itself is 95% recyclable.
Vehicle brands must now be held to high ecological standards. The Porsche brand is committed to creating vehicles that retain power and style; however, the Porsche brand ensures that optimal performance and environmental friendliness coexist as equals. The latter should not be sacrificed for the former. With today's technology, there is no excuse for a gas-guzzling monster.
The Porsche Cayenne S-E Hybrid is here to bring fuel-efficient adventures to Los Angeles area families. If you're in the market for a new SUV, you will not find a more ingenious design.
If you have any questions about the Porsche Cayenne S-E Hybrid, feel free to contact our Porsche dealer near Los Angeles. We are ready and willing to answer any questions you may have. Trust us, we never get tired of talking about this model.