Take Your Classic Porsche Into The 21st Century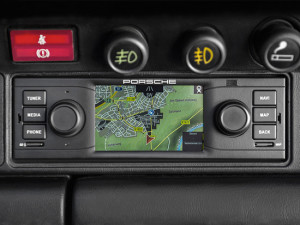 If you own a classic Porsche model, you don't have to live in the past; now, your older model can be classic on the outside, but modern on the inside! At Porsche Riverside, we're pleased to announce that Porsche has developed a navigation radio for classic sports cars – in response for the growing demand for a built-in device.
The all-new navigation radio offers a unique combination of yesteryear's styling with modern technology's benefits. It fits perfectly into the DIN-1 slot that has been used in sports cars for decades, and is easily operated by means of two knobs, sic integrated buttons, and a 3.5-inch touch-sensitive display. This radio system blends seamlessly into the dashboard of classic Porsche models – bearing the Porsche lettering suitable for generations between the first 911 from the 1960s and the last of the 911 series from the mid-1990s.
Don't be fooled by its appearance, this navigation radio system includes all the key features of today's systems. Drivers can enjoy low-interference radio reception, precise navigation, interfaces for a variety of music sources, and smartphone compatibility.
Your Classic Porsche Doesn't Have To Be A Blast From The Past
  Developed exclusively for Porsche Classic and especially for the classic sports cars. The operating concept is based on Porsche Communication Management and has undergone extensive testing at the Technical University in Munich to verify its user friendliness. The system's integrated amplifier delivers 4z45 watts; drivers can connect the amplifier directly to the loudspeakers or to the original sound system using an optional adapter cable.
The navigation system includes a choice of arrows and two-dimensional or three-dimensional maps to display the route. The maps are stored on an eight-gigabyte microSD card and are regularly updated.
For more information about Porsche's new navigation system for classic models, visit Porsche Riverside at 3210 Adams Street in Riverside.
When this system becomes available, you can find it at the Porsche Riverside parts department! Our parts department offers an array of genuine Porsche replacement parts and accessories whether you're aiming to customize your ride or preserve your vehicle's integrity.