Porsche Riverside Named #1 Porsche Dealer in the USA
For the fourth consecutive year, Porsche Riverside has been named the #1 Porsche dealer in the USA and the #1 Porsche dealership in the state of California by DealerRater! DealerRater is one of the top car dealership review websites for consumers, and announces winners of its Dealer of the Year award program annually. The DealerRater Dealer of the Year awards recognize dealerships for distinction in outstanding customer service—based on reviews shared on DealerRater.com.
Porsche Riverside, a Walter's Automotive dealership, was named a DealerRater Dealer of the Year in 2015, 2016, 2017 and now, 2018. The Dealer of the Year awards are given annually to the top U.S. and Canadian car dealerships and winners are determined by the dealership's DealerRater star rating and total number of reviews written during a calendar year. Scoring is based on a number of categories, including quality of work, friendliness, pricing, customer service, and overall experience.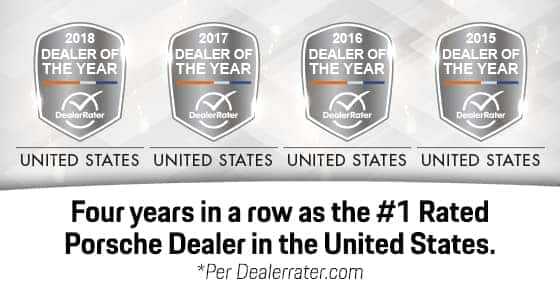 This award is a testament to our dealership's dedication to customer satisfaction. At Porsche Riverside Riverside, we strive to create the best possible customer experience, and work hard to regularly exceed expectations. Don't simply take our word for it; see what customers are saying about us on DealerRater.com:
#1 Porsche Dealer in California & the U.S. for Four Consecutive Years!
"I have used Porsche Riverside Riverside service center for all 10 years that I have recently owned Porsches. They are prompt, complete, and friendly. The service reception area is comfortable, which I used during my recent service appointment, as I waited for service to be completed. I highly recommend Porsche Riverside to the many members (1500+) of the Porsche Club that I am Vice President." – DealerRater user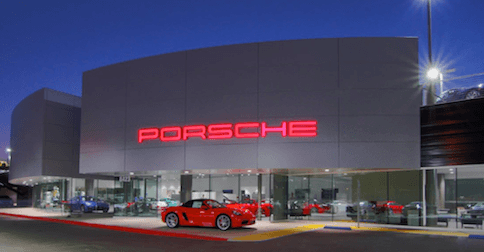 "Family! The staff at Porsche Riverside are fantastic! Our salesperson was exceptional in making our purchase experience enjoyable and easy. He took the time to determine exactly what we wanted, worked with us throughout the whole ordering process explaining all the details so we clearly understood, and made sure we were happy with our choice. When our vehicle arrived, everyone in the dealership made us feel like giving 'high-fives' to everybody. They made it fun. They were all just as excited for us. They made sure to impress upon us that they 'wanted' our business, and they 'wanted' to take care of us all along the way. That support means everything. They made us feel like…family! Thank you, Porsche Riverside." – DealerRater user
At Porsche Riverside, we proudly serve the Los Angeles, Orange County, and Corona areas. To learn more about all that our dealership has to offer, contact us.