What is the Porsche Taycan Driving Range?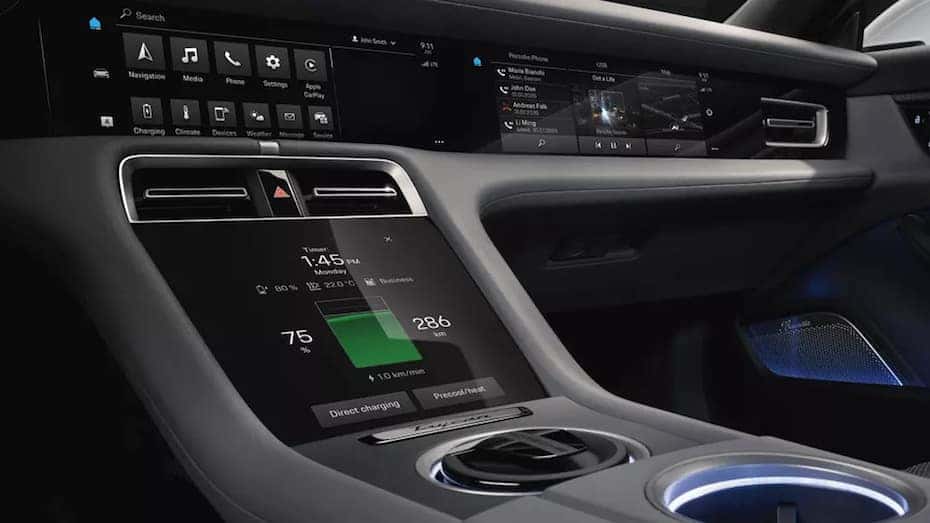 The estimated EPA range for the 2020 Porsche Taycan, the marque's first foray into the all-electric segment, varies by the model.
The mid-level Porsche Taycan Turbo has an estimated EPA range of 201 miles, which equates to 69 MPGe. The higher performance Porsche Taycan Turbo S model's EPA estimated driving range is 192 miles, which translates to 68 MPGe.
The impressive driving range comes largely thanks to the Porsche Recuperation Management system, which works innovatively to regenerate up to 90% of braking energy. During daily driving, you can recover up to a third of your range exclusively from this braking technology. Taking efficiency and performance to further heights is the adaptive air suspension, which substantially improves drag coefficient.
In a real-world setting, the 2020 Porsche Taycan has more than enough range to satisfy Riverside commuters. Should you need to recharge on the go, the 800-volt performance battery can charge from 5% up to 80% in just 22.5 minutes with a direct current charger at maximum power.
To help you stay on top of your range, the Taycan Charging Planner takes your current charge status into account when navigating on longer journeys – optimizing your route to ensure you spend minimal time between charging and reaching your destination.
The actual range of the Taycan, as with all battery-electric vehicles, may differ based on the weather, charging habits, battery age, and driving habits.
Electrify Your Drive With the 2020 Porsche Taycan in Riverside
Range aside, few production cars, electric or not, offer an experience on par with 2020 Porsche Taycan, let alone do 0-60 mph in 2.6 seconds like the Turbo S model.
If you're interested in learning more about the revolutionary Porsche Taycan, contact us at Porsche Riverside or check out our Porsche Taycan FAQs.
We encourage you to schedule a test drive and check out our new Porsche specials for exclusive savings on the 2020 Porsche Taycan.