Which 2018 Porsche Panamera is the Fastest?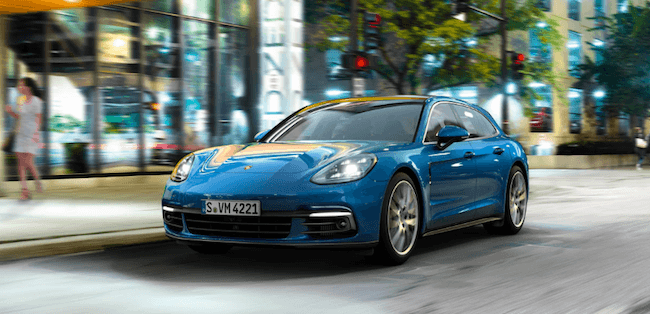 Bringing the Fast and the Furious to Los Angeles Area Drivers
No matter the 2018 Porsche Panamera trim you choose, all are designed with speed, performance, and technological innovation at the forefront. However–for the daredevils who crave an unbeatable rush–the 2018 Porsche Panamera 4S is the fastest; with a top track speed of 179 mph, this bad boy goes from 0-60 in a mere 4.2 seconds. When it comes to impressive acceleration, you won't beat the Panamera 4S. While the 4S Executive can also reach 179 mph, it goes from 0-60 in 4.3 seconds. If you're a car aficionado, who can sense a difference of .1 seconds, the Panamera 4S is the slick speedster you need for all of your Los Angeles area adventures.
View Used Porsche Panamera Inventory
Power and Style
The 2018 Porsche Panamera 4S boasts a max horsepower of 440 and a maximum torque of 405 lb.-ft. Featuring a long wheelbase and the advanced Porsche Traction Management system to boot, this car is powerful…but controlled. You'll be able to accelerate on command and hug the tight corners with ease.
While speed and power are integral to the Porsche namesake, the Panamera wouldn't be a true Porsche without its signature design aesthetic. With sharp body lines running from the front to the rear and exclusive design wheels available in silver platinum, the Porsche Panamera always makes an entrance. It's sporty and elegant. Adventurous, yet refined.
The Porsche Panamera is a luxury sedan equipped with racetrack-ready performance features. It's the best of both worlds. What beats unparalleled performance paired with a sophisticated appearance? If you're looking for a ride that's fast–and has class–the Panamera 4S is the vehicle for you.
If you have any questions, feel free to contact Porsche Riverside near Los Angeles. We are ready and willing to answer any questions you may have.