Customer Reviews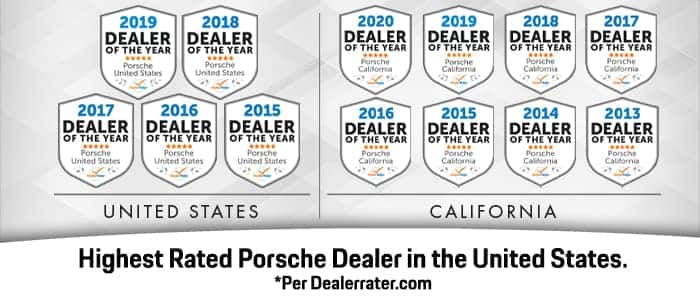 Porsche Riverside provided me with outstanding service. Joshua Vigil my Porsche ambassador was fantastic. It is very difficult to find cars these days and Joshua did when know one else could. He was communicative kept me informed along the way and delivered. Joshua handled all aspects of sale with courtesy and professionalism from start to finish!!! Thank you Joshua I'm so happy!!!!
Excellent service from Tony and Josh. They are very knowledgeable. It was great experience.
Great experience at Porsche Riverside. Charles White was able to get me an allocation while being fair and helpful. There are many dealerships who will try to price gauge, Riverside really helped me out and got me an incredible car. Charles helped from the designing of the car to the delivery. Highly recommend going in. Thanks again Charles! Look forward to many future cars together.
The team at Riverside were amazing!!! We were greeted by the manager Jeff who put us in touch with our sales guy Taylor. He showed us around at the new 2022 Macon options and we fell in love with a brand new Porsche! The technology has come a long way and we are very excited for our next one in the near future!
Charlie and Zoe were absolutely amazing. Excellent customer service, very attentive, and they worked hard to be sure I was a satisfied customer all around. Highly recommend!
Taylor was friendly, patience and professional. I would definitely Refer family and friends to Porsche Riverside….You all Rock 👏🏽👏🏽
I had such a wonderful experience purchasing my 2021Porsche Boxster GTS! I worked with Taylor--he is hands down, the most helpful, thorough and patient! I test drove several different models (this is my first Porsche) with the intention of purchasing a Cayenne. He showed me all of the features and options on several models, before I fell in love with my Boxster. He spoke about his personal experience with each model, he exudes a passion for the Porsche brand. He even considered how each would match into my lifestyle best. We concluded a convertible was most fitting for my drives ...
Taylor Ferguson is the guy to ask for. He has sold me two cars, and while I was there another customer bought a Cayenne after she asked what I thought of Porsche.
Taylor Ferguson helped make our purchase smooth and efficient. Thanks to the whole team at Riverside Porsche. Great service
I bought my Cayenne from Taylor at Riverside. They are very nice people.
Tony and the Porsche Riverside team were incredibly helpful and responsive to all of my questions and needs. I worked with a few other Porsche dealerships to find my car and Tony and the Riverside team provided the best experience (by far) from a customer stand point. Thank you for my Taycan. I LOVE IT!
I had a wonderful experience with this dealership and in particular with these individuals. Tony Nguyen as my sales rep , Ed Finley as Sales manager and Adam finance mngr that over saw my purchase. I purchased a Macan 2021, priced a little less then if i bought in OC orLA County, no sales pitch, it was straight forward easy and i had a very pleasant experience with the dealership. I highly recommend the people and dealership!
I've known John Beech for over 5 years now and every time I come in for a service or shopping around for new cars I look forward too seeing him. He's always a pleasure to talk to too and extremely helpful. Highly recommend asking for John if you're coming in.
Charles and his team did a great job. From my initial phone call asking advise on the car I was looking for to finding the perfect fit for my needs. The test drive and buying process couldn't have been easier and I really don't like the typical "dealer" experience, but this team knocked it out of the park.
Charles White was very attentive to our needs and made things happen quickly. Everyone at the dealership was very helpful and attentive as Charles was.
I am a long time Porsche owner. Purchasing two car is in last three months from Porsche of Riverside has been an amazing experience. Taylor Ferguson was an excellent person to deal with. He is knowledgeable and helpful in every way. I highly recommend Porsche of Riverside and especially Taylor to assist you.
Kudos to Rob Owen and Ed Finley! Sourcing my 2022 Taycan was a feat in itself. Not only did they deliver but made it seamless. Thank you!!
Taylor Ferguson provided exceptional service from the initial order and in evaluating what options best suited my needs through delivery. Taylor kept me fully informed and was in communication throughout the process. Highly recommend Taylor and dealership.
John Beech was extremely helpful, fun, and made the entire experience of buying my first Porsche a wonderful experience. Would highly recommend going to him as your point of contact.
Charlie Nguyen was amazing. He helped my wife and I to get our first Porsche, guiding us through the entire process.
We worked with Sherman Sims at Porsche Riverside. Sherman is a true professional. The entire experience was excellent!
Mike Barcelona and the entire Riverside Porsche staff did a great job as always. Never any complaints and only good service. A+!!