Customer Reviews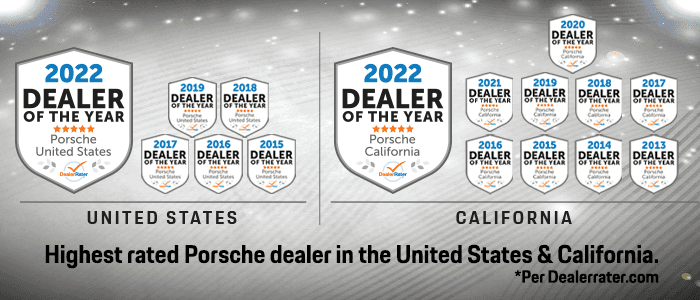 Sherman Sims is extremely helpful, patient, and knowledgeable. He takes time to explain and gives time to digest and decide. Harmonic environment! Awesome experience!
Rob is great!!! Bought car over the phone sight unseen. Rob handled everything! Sent me video's, took care of all my questions and concerns. He also arranged all of the shipping details. Car got to me quicker than expected. Great experience! Tony and all the people at the dealership were straight up with me. Thanks! Craig Sullivan
Sherman at Porsche Riverside is the man! Very transparent from start to finish and helped me pick up my CPO 2017 Carerra S. I would highly recommend him to anyone looking for a great customer experience!
Sherman Sims provided exceptional service to us. He made the process easy and personable. Thank you.
Jessie Varela made me feel more than comfortable purchasing my first Porsche 911 through Riverside Porsche. He was friendly, funny, and went out of his way to always answer questions quickly and accurately. He was there for the entire process and clearly a hard worker. I was impressed. The Riverside staff was incredibly friendly and fun to work with as well. Thank you, Jessie for making this experience a positive one to remember! Side note: Although Austin Day wasn't my sales rep, he was also very helpful and even helped put on my clear side markers. Andrew Bartoli was also ...
Wow . . . a car buying experience that was fun. John Beech was fantastic from his first call the moment that my car arrived at the dealership, welcoming me when I arrived later same day, to answering any questions I had about the car and things I never would have thought to ask about. Thanks!!
If you are looking for a NEW PORSCHE ROB OWENS is for sure YOUR GUY .. My husband and I have purchased 2 vehicles from Rob and he has answered and been there for every question. We custom ordered one of our cars and he was there for ever question ( and let's just saw I have a lot ) and he makes the experience of purchasing a car FUN and I don't think I have ever said that before. I LOVE Riverside Porsche and each person who works there. It feels like a family.
Good service and professional experience.....Rob Owen and Josh's. Best guys and good team members
Love my new car! It was personally delivered by Rob Owen and he was so helpful to show me all the details I needed to know about it. Definitely a great experience. Thank you!
I normally don't like to write reviews. But I had to let everyone know what a wonderful experience I had with my sales person. John Beech. He was so helpful but not pushy. he made my experience in purchasing my car a breeze. Thank you John for your helpfulness and professionalism.
I'm impressed with Porsche Riverside making my car buying experience so easy! John Beech was professional and knowledgeable. He genuinely cared and took the time to help me find what I was looking for without pressuring me into a decision. Thank you for such a positive experience.
Great experience with Rob Owen. Helped with pricing and put a great deal together.
Charlie Nguyen has definitely been so easy to work with and always hitting my hot spots and actually listens to what you're considering on. If you ever visit Porsche Riverside and looking to dial in your own Porsche, I recommend Charlie Nguyen to be your go to guy!
John was FANTASTIC!!! Super helpful and professional. We HIGHLY RECOMMEND him…!
Professional service, helpful, informative. Made the process smooth. Patient with all my questions. The showroom was immaculate! No pressure sales. Happy with my choice!
I LOVE The service Porsche Riverside! Charlie Nguyen was very informative, polite, and extremely helpful. Thank you Charlie you're the BEST!
Rob Owen was especially attentive to every aspect of selling me my Porsche Macan. I would highly recommend Rob, and this dealership if you are looking to purchase these beautiful SUV's, or any other Porsche you would want.
Juan Bautista was very knowledgeable and helpful in answering all of my questions! Staff was super friendly, I would definitely recommend Porsche Riverside!
Very nice and warm shopping journey! It is the third time shopping here! What a great experience!
I recently had the pleasure of working with Jesse Varela at Porsche Riverside while purchasing a Porsche Cayenne, and the experience was nothing short of exceptional. Their deep knowledge of the Cayenne model, combined with a genuine passion for luxury cars, made the entire process seamless. Their professionalism and attention to detail were evident from the moment we started discussing options to the final delivery of my dream car. I felt valued as a customer, and the personalized service I received truly exceeded my expectations. If you're in the market for a Porsche and want a top-notch buying experience, ...
Henry did an outstanding job.
Cody did an excellent job as my service advisor. Could not ask for anything more. He was extremely good about communicating with me about appointments and services that were performed. Would recommend him and the dealership to every Porsche owner I know.
I had an exceptional customer service experience characterized by remarkable efficiency and expertise. Tony, the salesperson, surpassed expectations by providing prompt assistance and going the extra mile.
amazing service, before and after the sale! John Beech and Jeff are an amazing combo! And Adam in Finance was great as well, staying after hours to get my deal wrapped up...thanks guys!