Customer Reviews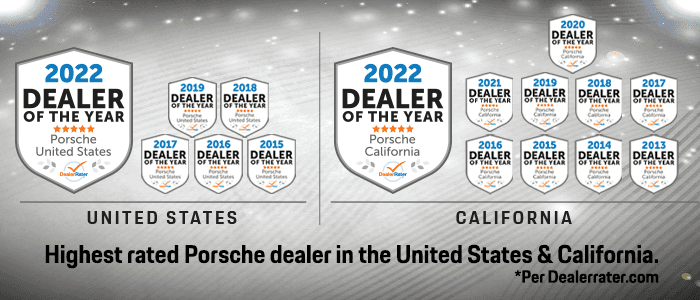 Had a great experience with Ron Owen and Eric that got the job done love my porche family
Outstanding service provided by Cody Allen when have work performed on my car!
I had the pleasure of working with Tony Nguyen at Porsche Riverside and couldn't have asked for a better experience or sales person. He was professional, straight up and easy to work with from the first call. Tony definitely earned a customer for life.
It was a pleasure working with Cody Allen coordinating service on my Porsche Taycan GTS. I purchased this car at Riverside Porsche in April, 2022. After nearly one year of owning this fine car, I was reminded that it was time for an annual checkup. At the same time, there were some minor recall adjustments. Cody was able to arrange all this work at my convenience, and to provide me with another vehicle while the work was done. Cody kept me informed about the estimated time of service completion, and he promptly answered some additional technical questions about the vehicle. Although ...
Great experience all around - we worked with Carlos Escobedo and Joshua Vigil. They were so professional and attentive, we drove away in our first Porsche over the weekend and couldn't be happier!
Sherman Sims was Amazing! No hassle and helped the most ever!!! Great guy
This is a great dealer to take care of your car. They were not only fixed my car, but also cleaned my car without any additional charges. The people are polite, and skillful. They also have nice coffee and cookies to make your waiting enjoyable.
Henry Quezada and all the folks at Walters Porsche were extremely helpful and professional. They were attentive to my needs and took care of the car issues promptly.
I had such a wonderful experience with Charlie Nguyen. He really try hard that I can get my deal, he is so patient and knowledgeable about what he is doing, definitely we will work with him in future,
I had such a wonderful experience with Charlie Nguyen and he really try that I can get my deal, he is so patient and knowledgeable about what he is doing, definitely we will work with him in future,
Austin Day was extremely helpful throughout my sales experience. He was knowledgeable and patient in answering my questions and gave me full confidence knowing I made the right decision. Would highly recommend him and the staff at Porsche Riverside.
We liked everything about this dealership. We started with a phone call to the dealership. We set up an appointment; Someone called us the night before to confirm our apportionment and to tell us we would be meeting with our salesperson, John Beech. Upon arrival, John met us out front .Right away, he made us feel comfortable and welcome. John is personable and knowledgeable, and transparent. He told us all about the car and answered all of our questions. He gave us a lot of information. He was patient .and never rushed us. He gave us some time on our ...
Tony was great to work with. He made the deal we were hoping for happen.
Charles White knows how to get things done fast. I was wanting a Targa GTS for a while and he helped me secure an allocation, design and spec the vehicle, and kept me in the loop as the car was being produced. The pickup and payment process was easy too. Thanks for all the help, looking forward to my new car.
Rob and Charlie been very helpful, honest , and professional
It was very nice to have a wide range of vehicles to choose in the Porsche Riverside.
Excellent customer service! William Barbaro went the extra mile to coordinate having my vehicle serviced and washed in a little over 3 hours with friendly and attentive communication. This is the 4th Porsche I've bought from Riverside Porsche. I'm very pleased with them.
My service adviser was Henry Quezada. He addressed my issues quickly and upon inspection by the service manager corrected the problem and returned car to me. Very happy with the personnel care and prompt technical support.
This was my 1st time stepping foot on a Porsche dealership and driving a Porsche and I left with a Taycan GTS. Eddie Lemus & Eric Lafever provided the most professional and friendly service that I've ever received and really lead to me feeling comfortable to make a purchase on the spot. I felt the passion that they have for the brand and it got me excited to join the Porsche family. The dealership is beautiful and I just can't say enough good things.
Charlie Nguyen has helped me facilitate the purchase of my 992 GT3 Touring. He has been very friendly and responsive through the process. Charlie is also a very skilled manual driver and showed how exciting the car is during our test drive. If you are looking for a Porsche, Charlie is your guy and will try his best to help you land your dream car!
Charlie - thank you for your time! Appreciate you showing me the different models of Taycans and going over all the features!