Customer Reviews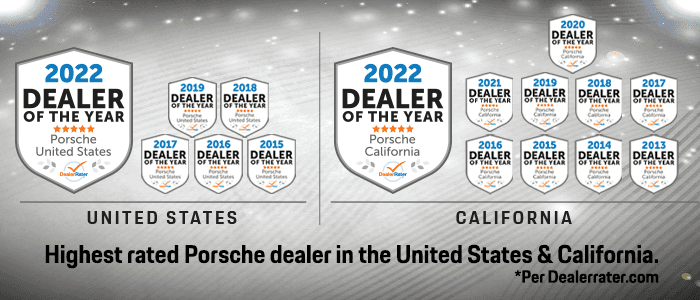 Charlie Nguyen is very friendly and helpful. We had a tight schedule and Charlie was able to come to my office with all the paperwork. Super happy with our new Cayman S!
I recently purchased a new Taycan at Porsche Riverside and was very happy with the purchase and the overall experience. My salesman was Sherman Sims. He kept me updated throughout the entire process while waiting for the car to arrive from Germany, helped me put together an incredible build, and was straightforward, knowledgeable, and easy to deal with during the entire process. I highly recommend Sherman Sims and the entire staff at the dealership. I've bought cars at several dealerships in Riverside including Lexus and BMW and the service and professionalism I received at Porsche Riverside was second to ...
I have been going to the Porsche Riverside service department since 2011. Mike Barcelona is my service advisor and always goes the extra mile to ensure customer satisfaction. He explains everything in a clear and concise manner and keeps you informed. If any unexpected issues arise, he immediately informs you and works with you to achieve a mutual resolution. I would highly recommend Mike and this service department for all of your Porsche needs.
Great service experience by Michael Barcelona, will definitely come back to Porsche of Riverside..
My overall experience at Porsche riverside was excellent. As an out of state vehicle buyer I had to contact Porsche Riverside many times to get information about the car I liked by email and phone. Both Taylor and Rob were very helpful and professional and answered my many questions promptly and completely. When I personally showd up at the dealership the whole process of seeing the car, the test drive and ultimately the purchase process went really well. I appreciated the low pressure nature of the whole process. I highly recommend this dealership.
Tony Nguyen delivered my 2020 Cayman GT4 yesterday. I have experience with Tony, Eddie(Sales Manager) and the dealership for a few transactions now and they have been the easiest and most responsive to work with during my car buying history. I highly recommend working with Tony and team. Always exceptionally good customer service.
Rob Owen was very professional and courteous during the whole process of buying the car. He did an excellent job of explaining the various features specific to the Macan S. My wife and I were very happy with the buying experience thanks to Rob.
Joshua Vigil is an excellent representative for Porsche Riverside. His timely and efficient communication was so helpful in making my decision to buy my Porsche. This is the type of customer service every representative needs to model themselves after. He kept on top of the transaction, was able to get me a good deal, and lead me through the seamless process every step of the way. He even came in early before his shift to meet with me and accommodate my schedule. They got me in and out of there in record time, because we all know, buying a car ...
Charles White is very responsive and answered all my questions. 5 stars.
Tony was my sales rep. He was very knowledgeable and professional. He took me on some good roads to experience the Macans driving ability and wanted to make sure I understood all the unique features it had. He was easy to work with and wrapped up a perfect deal and I cannot be happier. I will recommend Porsche Riverside/Tony Nguyen to everyone. Thank you!🚗Sherry
Excellent and responsive customer service; transparent pricing and overall easy process. Went out of their way to deliver car to me
Taylor Ferguson was very helpful and professional in whole process from initial test drive to delivery. He kept me informed of status of my car.
Bob McDonald was a pleasure to work with. He made the experience very comfortable and easy to navigate. We would gladly recommend him to anyone we know who is looking for a Porsche.
Sherman Simms was incredibly professional, friendly and thoughtful throughout the entire process of building and delivering my new Taycan. Being a brand new Porsche owner, I didn't know what to expect but I was pleasantly surprised by how thorough and welcoming Sherman and his team has been and most importantly I appreciated the fact that Sherman was a man of his word and kept his promises to me as a client from start to finish. With that said, I'm confident I will be working with Porsche Riverside for many years to come!
I appreciate Cody Allen being so professional and kind. Cody kept me up to date on the status of my car. Cody also made sure to inform me of his schedule, due to a part being ordered. How nice it is to have someone actually follow through without me having to call to hunt down answers and status of when my car would be done. Thank you Cody for making this process of getting the car up to speed.
Tony was very knowledgeable, professional, and attentive. I looked at the available vehicles online, called and made an appointment. Tony had prepared the ones that I wanted to test drive. After making my decision on the 18 Macan Turbo, he had all of the necessary documents prepped and I was in & out in 20 minutes. Would recommend him to anyone that is considered buying a Porsche.
Ordered my taycan 4s through Taylor and Rob kept me updated throughout the process. Great experience.
Taylor Ferguson was great, friendly and very helpful, his follow up service was exceptional. Overall we were very happy.
Sherman is a truly great guy and I am blessed to have worked with him. I won't be coming to anyone but him and Porsche riverside for future purchases. Thank you Sherman!
Austin Day from Porsche Riverside recently helped me out with mg purchase of a 911 Targa 4S. I was so impressed with Austin and his level of service and attention to detail. When I couldn't be there in person to view the car Austin would send hi definition video walk arounds on the vehicle. Charles White came to my home and helped with the paperwork and financial side, what a great guy and hugely knowledgeable about the Porsche world. Excellent service levels from Charles and a really cool person. Then it was back over to Austin who was really helpful ...
Porsche Riverside always delivers exceptional service. Cody helped me this time with my 1 yr service for my Macan. He was great and courteous. I highly recommend this dealer for all service needs and new purchases
Professional, personalized consultation and very helpful in all aspects of sales process. Would highly recommend Bob Owen for his knowledge and attention to detail.