Where Can I Return My Porsche Lease?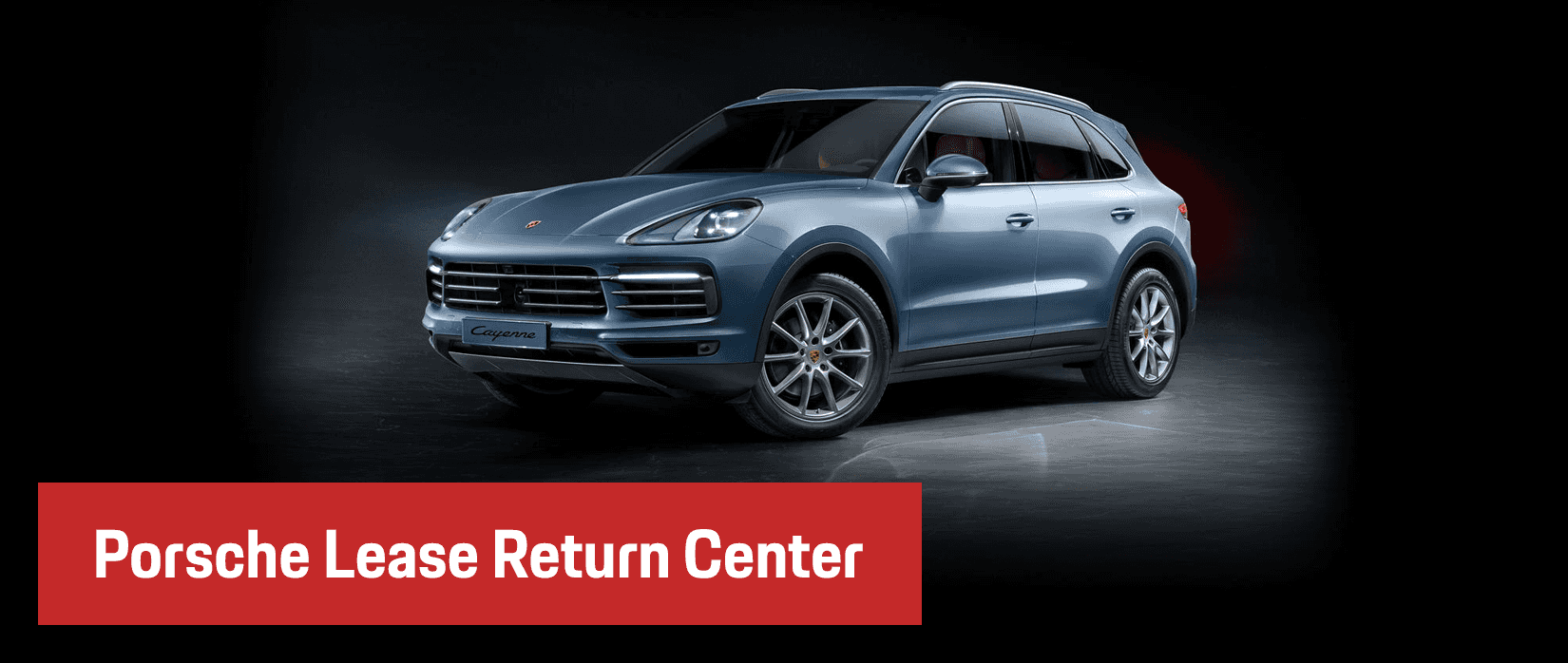 Looking for information regarding the Porsche lease-end process? Luckily for you, Porsche Riverside is an authorized Porsche Lease Return Center and we are here to explain your options. When your lease is up, you have three primary choices:
Buy or lease a new Porsche
Finance the vehicle you've been leasing
Return the lease
With state-of-the-art mechanics and iconic interior and exterior stylings, we don't expect you to find a comparable vehicle outside of Porsche; however, we understand that you may wish to keep your options open. Before your lease is up, feel free to do your research. Take a peek at our current Porsche lease specials or read on to learn more about the Porsche Lease Pull-Ahead Program to see how you can drive off in a brand new Porsche when you're at or approaching the end of your current Porsche lease agreement.
Porsche Lease Pull-Ahead Program
With Porsche Riverside's End of Term Lease Loyalty Program, you can receive up to 12 payment credits*. This program is offered to returning Porsche customers who are currently leasing a Porsche vehicle. As a loyal Porsche owner, you understand the Porsche commitment to performance, design, and luxury. We will waive up to the specified number of remaining monthly payments for select existing lease customers who return their vehicle that is currently leased with Porsche Financial Services and lease or finance a New Porsche.
Eligibility:
Eligible customers must lease or finance a new model year Porsche
Payments waived are determined by the customer's existing vehicle (model year and model type)
Term of existing PFS lease agreement must be equal to or greater than 24 months
Past due payments are not eligible and will not be waived
Existing PFS Contract Vehicle Eligibility and Program Benefits
| | | | |
| --- | --- | --- | --- |
| Term (Months) | Model Year | Model | Payments Waived |
| 24 months & above | MY16 | All Models | Up to 12 |
| 24 months & above | MY17 | Macan & Cayenne Models | Up to 12 |
| 24 months & above | MY17 | Mid-Engine, 911 & Panamera Models | Up to 6 |
| 24 months & above | MY18 | Mid-Engine and Cayenne Models | Up to 12 |
| 24 months & above | MY18 | 911, Panamera, and Macan Models | Up to 6 |
| 24 months & above | All MY | All Models | Up to 3* |
Porsche End of Lease FAQs
While shopping for a new Porsche is the most exciting part of the lease-end process, it's only one part. There are a few questions that have yet to be answered. Feel free to take a look a the FAQs regarding the lease-end process below:
Q: Must I have my Porsche inspected before returning it?
A: Yes. You will be contacted prior to lease-end to book this inspection.
Q: Do I have to return my Porsche to the original dealer?
A: No. You can take your Porsche to any Porsche dealer. Come to Porsche Riverside; we treat our customers like family.
Q: Will I be charged for exceeding the mileage limit?
A: Yes. $0.25 for every mile over the allotted amount.
We hope you find this Porsche lease-end guide helpful. We look forward to assisting you with the lease-end process. Just remember: when you come to return your Porsche, bring your extra set of keys and your Porsche manual. If you have any questions, feel free to contact our Porsche dealer in Riverside serving Orange County, Los Angeles, Chino Hills, and Rancho Cucamonga at 951-441-6194. We are ready and willing to answer any questions you may have.
* Available when leasing or financing any model year New or PACPO Porsche through PFS. Contracted term on existing PFS lease agreement must be 24 months or above to be eligible for the program. Single Pay Lease Agreements are not eligible. Customers whose payments are greater than $2,500 (net of use tax) are eligible to receive the $2,500 maximum. Payment amounts above the maximum must be paid including any applicable use tax on the amount paid. Only one EOTLLP offer per eligible PFS account. Vehicles must meet the standard PFS vehicle eligibility requirements of the PFS Lease/Retail Finance Program as applicable and/or the specific vehicle eligibility requirements of the finance or lease program utilized.