Porsche Riverside Is the #1 Porsche Dealer In the USA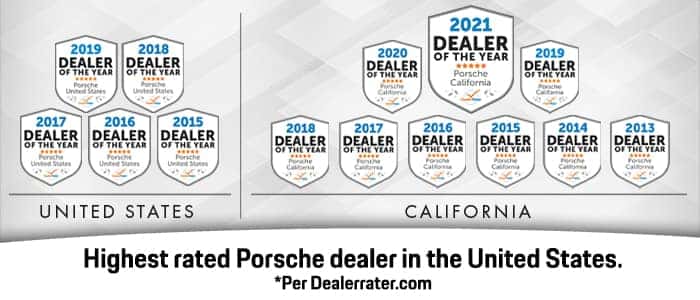 DealerRater, the car dealership review website for consumers, has announced the winners of its annual Dealer of the Year award program. At Porsche Riverside, we're excited to share that, for another consecutive year, our dealership was named the Highest Rated Porsche Dealer in the United States! DealerRater's Dealer of the Year awards recognizes dealers for distinction in outstanding customer service, based on reviews of dealership experiences shared on DealerRater.com.
DealerRater's Dealer of the Year awards are given annually to the top U.S. and Canadian car dealerships. To determine award winners, DealerRater looks at the dealership's DealerRater star rating, as well as the total number of reviews written about the dealership during the calendar year. Categories for scoring include quality of work, friendliness, pricing, customer service, and overall experience.
At Porsche Riverside, we strive to create the best possible customer experience and are proud to be recognized by DealerRater for our efforts. Our dealership is once again not only the #1 Porsche dealer in California, but also #1 in the United States among all Porsche dealerships! We have received this award for the last five years in a row.
Also ranked #1 in the State of California
Check out what previous customers have had to say about their experiences at our dealership:
Very professional, understanding, and reasonable. The salesperson was polite, courteous, patient, and genuinely cared to help me find what I have been looking for. He was very professional and took it upon himself to answer all of my inquiries and find the car for me. I highly recommend working with him and the staff at Porsche Riverside." – DealerRater user

Great experience! I stopped at this dealership to look at some Carreras. I wasn't prepared to buy one. The sales agent walked up to me and offered help. This is not the case at any Porsche dealer. He found the car I liked and let me test drive it. The sales manager gave me a deal I couldn't resist so I drove off with a beautiful car the same day. They have a great inventory. I do recommend them to any one who loves Porsches. They will make your dreams come true." – DealerRater user
At Porsche Riverside, we're proud to serve Los Angeles, Rancho Cucamonga, and Ontario area Porsche enthusiasts. To learn more about our dealership, contact Porsche Riverside.