Porsche Hybrid and Electric Cars: Ownership Cost Advantages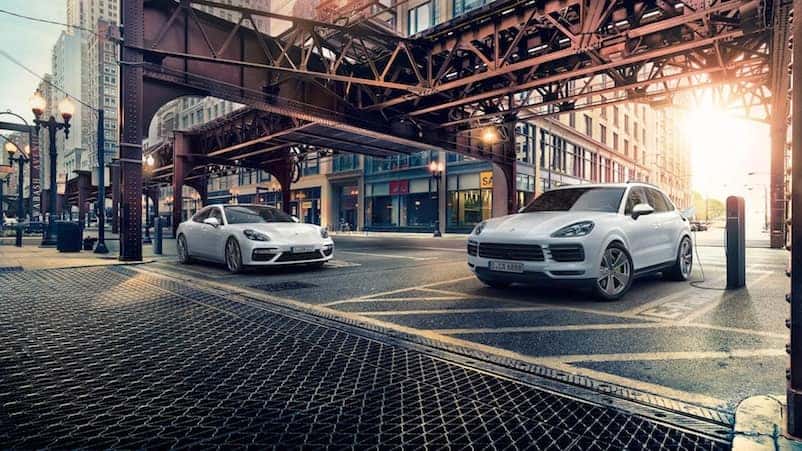 Our Riverside Porsche dealership carries a variety of Porsche hybrid and electric vehicles like the Cayenne, Panamera and Taycan. These cars and SUVs offer legendary, sleek Porsche design and performance as well as the benefits and cost advantages of owning a hybrid or electric vehicle.
3 Reasons to Invest in an Electric or Hybrid Porsche
California Clean Fuel Reward Program
The California Clean Fuel Reward Program allows you to save up to $1,500 off the purchase or lease of an eligible new Battery Electric (BEV) or Plug-In Hybrid (PHEV) vehicle. Offered by the California Air Resources Board, now would be the perfect time to take advantage of this offer on an eligible Porsche model like the Taycan.
Lower Fuel & Service Costs
While the purchase price of a hybrid or electric model may seem higher than their gas counterparts, you'll actually have less to worry about in terms of service. With reduced fuel dependence and enthralling efficiency thanks to this day and age's advancements, hybrids help reduce the amount you're spending at the gas pump. And if you opt for electric, you can bypass the gas station altogether. Plus, oil changes are a thing of the past for electric cars.
See recommended Porsche service intervals.
Wear and Tear on Your Brakes
Typically, a gas vehicle needs to have its brake pads changed regularly, but hybrids' regenerative braking systems eliminate much of the wear on the mechanical brakes, allowing the brake pads to last much longer. Most hybrid vehicles do not require any additional maintenance on the hybrid-specific components, keeping your service appointments at a minimum.
Shop for Porsche Hybrid and Electric Vehicles Near Los Angeles
If you're interested in any of the models in our Porsche electric and hybrid inventory or learning more about the cost benefits of owning a green machine contact us at Porsche Riverside. We also encourage you to visit our showroom in Riverside, near Los Angeles, to take one of these vehicles for a test drive.