Porsche Taycan Charging Options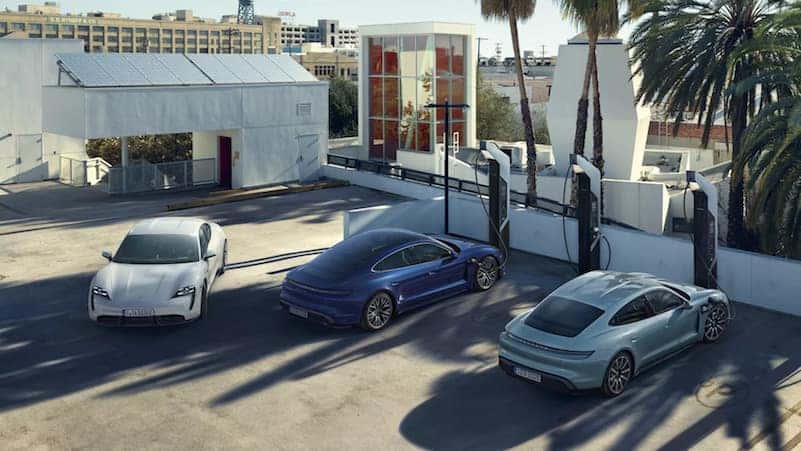 Equipped with an 800-volt performance battery, the all-new Porsche Taycan revolutionizes "driving" in every sense of the word. In turn, local California drivers should know how to approach powering their Taycan models accordingly.
Allow the resident Porsche experts at our dealership serving Los Angeles and Riverside County to explain the Porsche Taycan charging options in detail.
Porsche Taycan Charging at Home
Connected to a 240V NEMA 14-50 outlet, the standard Mobile Charger can be used to charge your Taycan at home. Additionally, you can attach the Mobile Charger Connect to your garage wall via the available charging dock.
Need assistance with the selection, set-up, and installation of a charging dock? Porsche has partnered with Amazon to provide in-home charging solutions and professional installation services.
Staying on top of your Taycan's charge is simple via the Porsche Connect App, which provides remote access to the remaining charge time and current battery level.
At full charge, the Porsche Taycan has an EPA Estimated driving range of 192 miles.
Porsche Taycan Charging Network & Stations
The network of efficient Porsche Turbo Chargers is continuously growing, allowing you to charge your Taycan up to 270kw through 800-volt charging stations.
Additionally, several alternating current charging options are available at popular destinations, like restaurants, hotels, and city centers. For your convenience, you can use any charging point though the Porsche Charging Service feature of the Porsche Connect app.
Experience The Future of Driving in a Porsche Taycan From Our Riverside Dealership
Looking to experience legendary Porsche performance on an entirely new platform? Check out the Porsche Taycan models for sale at our dealership serving Los Angeles and Riverside County. Our knowledgeable sales professionals would be happy to give you a tour of the Porsche Tayacan and, of course, show you your charging options.
Our new Porsche lease specials offer exclusive opportunities to get behind the wheel of this enthralling Porsche model.
If you have any questions about charging the Porsche Taycan, contact us at Porsche Riverside.