Porsche Hybrid and Electric Cars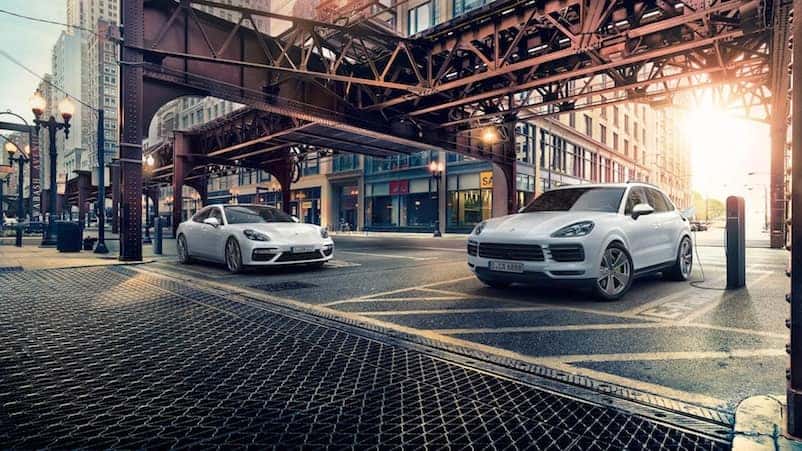 Our pedigree of performance-oriented vehicles places us at the fore of the automotive elite. Now, with the responsibility of escorting the industry forward, we innovated our repertoire of sports cars for the future.
At our Porsche dealership, we're proud to pave the way for cleaner energy to populate the streets of Riverside, Los Angeles, and Riverside County through the Porsche E-Performance initiative, which offers three exciting models.
Porsche Taycan
The latest edition to the storied Porsche lineup comes in the mold of a fully electric, four-door sports sedan. The Porsche Taycan sets a new precedent in the electric segment with highly advanced production methods, connectivity features for everyday use, and superlative performance amounting to a blistering 390 kw / 522 hp and an EPA estimated drive range of up to 192-miles.
Porsche Cayenne E-Hybrid
The Porsche Cayenne E-Hybrid is one of the first plug-in hybrid variants in its segment. Discard any preconceived notions about green SUVs – the Porsche Cayenne E-Hybrid is designed for the race track with 455 horsepower and a 157 mph top track speed, which is more than enough performance to pin five sports car fanatics to their appropriately bolstered seats. It's also built for everyday driving and weekend getaways with a towing capacity of up to 7,700lbs, a standard Porsche Universal Charger (AC) and vehicle charge port, and an all-electric range that can cover most daily errands.
Porsche Panamera E-Hybrid
Pushing performance, efficiency, and comfort to their respective limits, the Porsche Panamera E-Hybrid breaks conventions with an EPA estimated 51 MPGe while sticking to our tried-and-true driver-centric formula. It's the way we've always done it – building upon the last generation to make more dynamic, more efficient, and higher performing cars. To be exact, that's 457 horsepower tuned to a 0-60 mph time of 4.4 seconds.
Experience The Future of Performance In Riverside Through the Porsche Hybrid Electric Lineup
Unsure if going electric or hybrid is right for you? Check out the ownership cost benefits of going green.
And as soon as you're ready to experience the next generation of automotive performance, contact us at Porsche Riverside. We'd be happy to delve into each model that catches your interest and, of course, put you in the driver's seat.