718 Boxster Service Intervals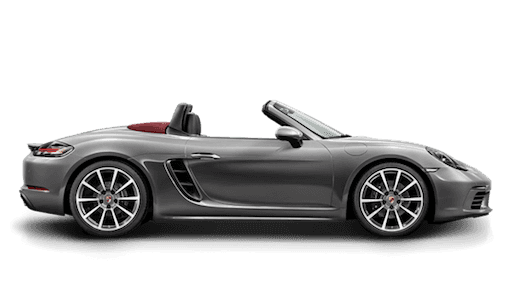 | | |
| --- | --- |
| Engine Oil | Every 10,000 miles or 1 year |
| Spark Plugs (Turbo Models) | Every 30,000 miles or 3 years |
| Spark Plugs (V-6 / V-8 / GTS Models) | Every 40,000 miles or 4 years |
| Pollen Filter and Air Filter | Every 40,000 miles or 4 years |
| Coolant | Every 40,000 miles or 4 years |
| Brake Fluid | Every 20,000 miles or 2 years |
Every Porsche owner understands the importance of routine car maintenance. After all, a healthy powertrain system will allow the vehicle to last longer on the road. When you are driving a Porsche 718 Boxster, you should be able to enjoy peak performance no matter how many miles are on the odometer. Our Porsche service center serves Rancho Cucamonga drivers with all their maintenance needs for their vehicle. Aside from the table above, your 718 Boxster comes equipped with a fixed service interval indicator that will alert you when your car needs to see a certified Porsche technician.
To make sure your Porsche is running close to perfection, always perform an oil change every 10,000-miles or 12 months (whichever comes first). Taking this simple step will make your car run like-new again. Not getting your oil change at this intervals could potentially lead to engine problems.
We have all seen that one person on the side of the road with the hood propped open and steam coming off the engine. This person probably forgot to get their coolant levels refilled, which led to the vehicle overheating and subsequent breakdown. To prevent this from happening to your Porsche, get your coolant levels checked and refilled every 40,000 miles or every two years.
Maintaining A Safe Porsche
When you drive Porsche 718 Boxster, you're driving a power-hungry vehicle that thrives on high-performance. In addition, it comes with the best safety features for all passengers in the vehicle. The most important safety quality in your vehicle is the brakes. Failing to have your brakes inspected can result in a potentially hazardous situation. To keep you and your loved ones protected, have your brake fluid examined every 20,000 miles or every two years.
At Porsche Riverside, we serve the greater Rancho Cucamonga and Los Angeles areas for all their Porsche maintenance needs. Your vehicle will be taken care of by experienced mechanics who will use state-of-the-art equipment and genuine Porsche parts. When you need to schedule a service appointment for your 718 Boxster, call us.