Porsche 718 Cayman Service Intervals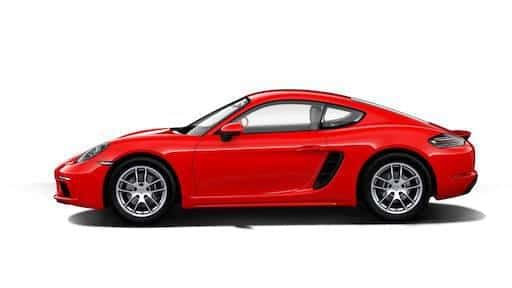 | | |
| --- | --- |
| Engine Oil | Every 10,000 miles or 1 year |
| Spark Plugs (Turbo Models) | Every 30,000 miles or 3 years |
| Spark Plugs (V-6 / V-8 / GTS Models) | Every 40,000 miles or 4 years |
| Pollen Filter and Air Filter | Every 40,000 miles or 4 years |
| Coolant | Every 40,000 miles or 4 years |
| Brake Fluid | Every 20,000 miles or 2 years |
As a vehicle owner, staying on top of your vehicle's required routine maintenance is integral. After all, regular maintenance helps to keep your vehicle running at peak performance and remain on the road for years to come. As a Porsche driver, you rely on your Porsche to deliver a thrilling driving experience each and every time you get behind the wheel. In order to maintain your vehicle's power-packed performance capability, you've got to follow the intervals listed above.
At Porsche Riverside, our Los Angeles Porsche dealership, we understand that keeping up with your vehicle's maintenance needs is easier said than done. We aim to make it less of a hassle by providing the above service intervals specific to your Porsche 718 Cayman. For 718 Cayman drivers, an oil change and filter replacement is recommended every two years. Getting your car's oil changed regularly is one of the most important maintenance services. Oil helps to keep the engine lubricated and protected. It draws out harmful heat and keeps the engine in working order.
Aside from the engine, the braking system is another one of the most important parts of your car. After all, the condition of your brakes can be the difference between life and death! It's important to pay close attention to the condition of your vehicle's brakes, take care of brake maintenance on time, and pay attention to brake fluid levels. Brake fluid transfers the force created by pressing on the brake pedal to the wheel hub; during that action, heat gets generated, which can affect the brake fluid. For 718 Cayman owners, be sure to change the brake fluid every two years.
Routine Maintenance Tips for Rancho Cucamonga Porsche 718 Cayman Owners
Spark plugs are another important element. They're responsible for creating the spark that's emitted to create the ignition for the combustion that starts the engine. To ensure that you don't end up stranded on the side of the road, replace your spark plugs every four years.
Of course, if you want help taking care of any of these maintenance needs, our Los Angeles Porsche service center is here! We're proud to be considered one of the top destinations for quality Porsche service in the area. Please give us a call to schedule an appointment with us.