Porsche Dashboard Warning Lights & Meanings
Below are some of the most common Porsche dashboard indicator and warning lights*: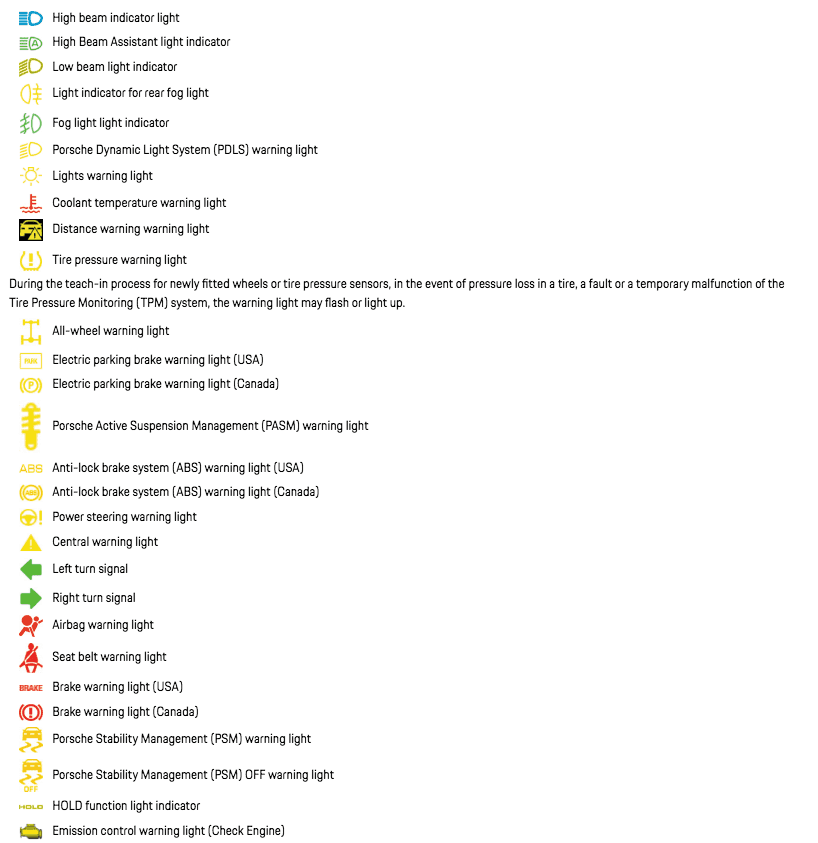 ---
Not all of the above lights are warning lights, some are indicator lights and illuminate when a system or feature is engaged. The High Beam Indicator Light for instance is lit up when the high beams are on, this does not mean there is an issue with the high beams. Conversely, faults are indicated by the warning lights and will only go out when the cause of the fault has been corrected.
Visit an authorized Porsche service center, like Porsche Riverside if:
The warning light does not come on briefly when the ignition is switched on.
The warning light comes on or flashes when the engine is running or while driving.

Common Porsche Warning Lights Explained
Tire Pressure Warning Light – All Porsche models are equipped with a Tire Pressure Monitoring System (TPMS) to help drivers ensure that the tire pressure is correctly set at all times and to alert them when its low. While tire pressure can be impacted by changes in the outside temperature, it can also be a sign that you have a leak and either need a patch or a new tire. If that's the case, visit Porsche Riverside for tire service. Watch the video below to learn more.
Brake Warning Light – There are a number of reasons the brake warning light may appear, here are a few: if the brake fluid level is too low, if the criteria to automatically release the parking brake is not met, or if the electric parking brake cannot be fully applied when the vehicle is stationary.
Emissions Control Warning Light (Check Engine) – In the event of malfunctions (e.g. engine misfiring) that could increase pollutant emissions or cause consequential damage the warning light may flash or light up. If this warning light flashes or lights up, we recommend bringing your vehicle to our Porsche service center in Riverside.
For additional information on indicator lights, refer to your vehicle's Owner's Manual.
*The above set of Porsche Indicator Lights are from a 2019 Porsche Macan – lights, symbols, icons, and colors may vary based on your particular model and year.